We have been working over time to have enough Fleece blankets and wood signs to have a huge fundraiser for our little buddy Srecko aka. Scott. Remember that little guy, how could you forget. We talk about him a lot.. He is always on our minds!!! He is needed 1.500.00 dollars for his part of fees to come to the USA with his new family.. He needs a plane ticket, and medical exam, and his visa approval from the US Embassy to be able to travel to the USA.. We are having a big sale on our adoption fundraising stores !!! We have three stores to get ready , so it has taken many hours to get everything ready ..
Right now we are having our biggest fundraiser yet!!!! We are helping a very sweet family to raise the funds to be able to travel and bring their new son home. You see they are adopting a third child from E.E. and fell a little short to be able to travel to pick him up. This little guy is 7 ~ yes that is right he is seven and he has been waiting seven~7~ long years for a family to come and get him. He has seen many new families come and get their new child and he watches as they leave . Waiting for his family to come and get him. This little guy has C.P.~ Cerebral Palsy and he really could use some therapies to help him. Please help us in helping The Severson family to be able to raise the much needed funds to bring their son home... 25 % of every sale of a BLANKET OR WOOD SIGN will go to the Severson family fund to help bring home their son. His travel expenses are around 1,500.00 dollars to get his plane ticket , medical and visa for their son to leave the country he was born in. We also will have a chip in set up if you would just like to donate to help the Severson family....
Thank you so much for shopping Mama Bears Fleece Blankets !!!www.mamabearsfleeceblankets.blogspot.com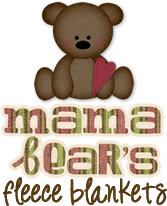 Thank you so much for shopping The Campbell's Country Store !!!!
www.thecampbellscountrystore.blogspot.com
http://www.campbellscountrystore.blogspot.com
Also we are having this fundraiser on our E-Bay Store also~ But on the E-Bay Store you will be donating two times..One time will donate 25% to the Severson family and then there is 10% for Breast Cancer or Reece;s Rainbow.org for every blanket sold.
So if you would like to do a double donation for the holidays, you can shop our E-BAY Store @ http://stores.shop.ebay.com/mama-bears-fleece-blankets
Visit us
HERE
!
You can also donate by the chip in on the side of our blog, it will go right in the Severson family fund for them to travel to get their son...You can also visit The Severson Family Blog @
www.findingourbutterflies.blogspot.com
We will be having the fundraiser starting today until Dec 20th, 2010. We sure hope and pray we will have all his funds needed to purchase his plane ticket and pay his other fees and maybe have a little left over for him to have a very nice dinner in his first country before he gets on that plane for the USA... BOY WILL WE BE VERY HAPPY WHEN WE CAN POST THAT OUR LITTLE BUDDY HAS ENOUGH MONEY TO BE ABLE TO COME HOME TO HIS FAMILY!!! That would really make us so happy for Christmas!!! All i want for Christmas is Srecko to have enough funds to go home to his new family... Please God help us raise the much needed funds , very very soon!!!
Thank you all so much,
Gary & Jody